I plucked a CD off the shelf at my local library and really appreciated it. Have you ever heard of the Drive By Truckers?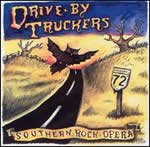 Friday gave me 7 miles running and an hour of heavy weight lifting. I felt godlike.
Saturday was another 5 miles, including a mile of near-vertical on an elliptical. Man, that thing really hurt my ass.
The editorial in this month's Running Times talks about the opposite of Winning. Most people would say the opposite of winning is losing. But according to research scientist Martha Rosett Lutz, the opposite of winning is quitting.
Jonathan Beverly, the editor, goes on to say that quitting can be as brash as giving up your shoes and buying a La-Z-Boy, but it can be as subtle as giving up during the tough part of a race. Similarly, winning can be something other than crossing the finish line first. You win by beating a personal record, or by just finishing the race, etc.
Here's something– some of my running blog friends are SERIOUS about their running. They are out there slicing time off their PRs, and they are training with intense regimens. That is SO awesome. You all rock hard!
Some of my other running blog friends are running, and they're enjoying it, and they're trying hard to stay in the game. But they feel worried that they're not serious enough. That they're not "real" runners. I've seen this before in other lifestyle choices I used to embrace.
Hey, has anyone used these? Are they good?
I jammed out five miles on the treadmill today, barely really noticing the effort. This is a GREAT feeling, considering that I've been feeling a little laggy of late. I'm not sure to what I should grant credit. Maybe it was that ucky throat feeling yesterday that's gone today (answer to Jon). Maybe it was just knowing that I'm pushing through. Beats me.
After the run, I hit the weights. I did shoulders, triceps, and then some core stuff including some squats, twists, and the dreaded plank. Generally, I felt stronger than I've felt in a while.
I woke up this morning and felt a weird tickle in the back of my throat. Jon said he's having the same thing. Uh-oh.
The good news is, someone gave me the best motivation yet for doing my marathon in November. Just the kick in the balls I needed.
I started my day off at 4:42 AM, wolfing down a leftover turkey sandwich from Subway, taking my multivitamin, my B complex, my allegra, etc. After throwing on some duds, I fought my urge to get back into bed and snore some more. It was a fight. I was down the elevator, walking out through the glassy foyer of our building, and I was still saying to myself, "I don't want to go." In fact, I didn't even want the lady at the desk to let me in once I was standing there in front of her. I was hoping she'd kick me out for some reason. But she didn't. I had to go in.
Once I got in, I got down to work. I threw lots of metal up and down to work my chest. I did those assisted chinup things for a while. And I did squats with weight. It feels really cool to do freeweight squats with 220 pounds on my back and not complain. Thereafter, I did some lower back work, some core exercises, and a couple dozen pushups, just so I'd go home feeling like I'd earned it.
What a great event, put on by some wonderful people. There were seventy-something runners, and all types. I came in 51st overall, which surprised me. I felt fairly laggy, and thought there might only be a half dozen people behind me. Time wise, I did somewhere around 44 minutes for 4.1 miles, so a little slower than normal for me. (Updated).
Excellent trail in Ravenswood forest in Gloucester, Mass. If you're in the state and want a neat place to trail run, check this place out. There's a great mix of singletracks, swampy areas that are fun/tricky, and some great climbing areas. Just generally a great day.
I didn't run this morning, as I was a bit stiff and sore from too little hydration the day before. I'll try to sneak in the miles either at lunch and then at dinner, or just in the evening. Or maybe I'll just do 10 tomorrow instead of this morning. This is the heavy mileage week. It doubles as the week to see if I feel up to bumping my running up to ultra distances in 2005 (even theoretically).
After the marathon, I'll stop training for running until spring. I'll still get in runs, but not with a specific plan. In fact, I'll turn over my planning to burning fat and toning up even more. I'll work on kicking 30 plus pounds off my frame over the winter. While everyone else is allowing on that magical 10 pounds, I'm going to try and carve up the bird a little more. We'll see. I'm definitely a guy who loves to eat, and even when I eat good for me foods, I still love eating plenty of them. I'm hoping to use muscle mass and calorie burning to offset my appetites.